JOINT ISSUE PITCAIRN ISLANDS - SNA
Burning the Excessive Stamps
Because of current political tensions, apparently some stamp collectors came to the idea of burning the stamps of different countries, this depending of their personal political antipathies. In order to direct these passions toward something of helpful for the philately, the SNAPO has issued, together with the Pitcairn Island, a minisheet and a poster, both dedicated to the burning of excessive issues.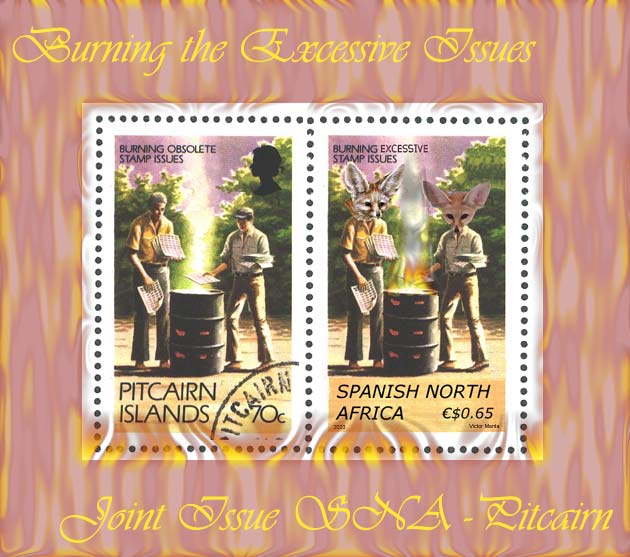 The excessive stamps are some issued in quantities that exceed by large margins the postal necessities of certain countries. An example is Liberia (a country in war), that issued in the year 2000 none less then 771 different pieces, comprising 677 stamps and 94 souvenir sheets.
More about the undesirable and excessive stamps can be found on the page:
http://www.pwmo.org/articles/undesirable-stamps1.htm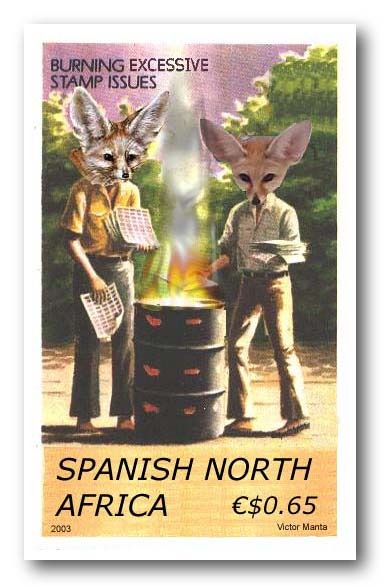 The sheet was issued simultaneously in Ciudad de Leon, the capital of SNA, and on the Pitcairn Island, on the 16th of March 2003. The print run is of only 1 million sheets. The stamps on the left was originally issued by Pitcairn Islands on the 1st of October, 1981, SG 182b. Because it was issued earlier, it is shown as cancelled. It isn't valid separately, but the whole sheet is valid for postage in both countries. The SNA version presents two postfennecs doing the quite same work, and this by using the same, a bit improved technology.
Above you can admire the original Pitcairn Island stamp and its SNA version (not deliverable separately, only in sheet of two), and also the first stamp poster ever issued by the SNAPO - which denote the importance that the SNAPO accords to this hot subject.
Credits: To Dave Joll from the New Zealand, who mentioned the Pitcairn Island stamp on the RCSD newsgroup and who kindly provided a scan of the stamp to the SNADD (Design Department) of the SNAPO.