SNA HUMOR AWARD 2003
THE SECOND AWARD OF THIS YEAR
GOES TO PIERRE COURTIADE, FRANCE
The first SNA Humor Award was won by a sheet issued by the French Southern and Antarctic Territories.
The second award was won by the news:rec.collecting.stamps participant from France, Pierre Courtiade, for the cover shown below.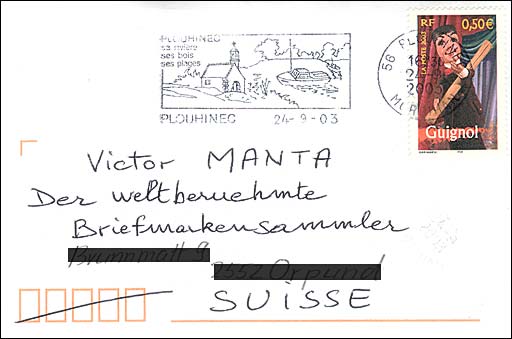 Please notice the very short address on the cover. "Der weltberühmte Briefmarkensammler" (in German) means "The renown worldwide stamp collector ", and Suisse (in French) means, of course, Switzerland.
It is the Swiss PA clerk who has completed the missing part of the address, by inserting it with a pencil (in the part "censored" out by the addressee). The cover was sent from France on Sept. 24, 2003, and it arrived on Sept. 29, 2003 in Switzerland -- which means quite quickly.
My sincere congratulations and thanks to the Swiss Post!
Guignol, shown on the above French stamp, is a glove-puppet kind of theatre. It is characterized by the the big simplicity of the plays. There are thousands of such plays, roughly based on the same or similar characters, named Guignol, Gnafron, and the Gendarme. Usually, the characters hit one another with sticks until they die. Today, the Guignol play is popular especially with small kids.
See below a part of the RCSD thread that actually led to the above cover. And last but not least... thanks a a lot to Pierre!!!!
---
From: Pierre Courtiade (invalid@club-internet.fr)
Subject: Re: Singers on Stamps
Newsgroups: rec.collecting.stamps.discuss
Date: 2003-09-21 22:06:32 PST

Victor,

....

The address is :

Il signor cantante Antoine (Le chanteur Antoine - To the singer Antoine)
Parigi (Paris)
Francia

And the letter reached him :-)))

All the best,
Pierre Courtiade
---
From: Victor Manta (victor_colegi@yahoo.com)
Subject: Re: Singers on Stamps
Newsgroups: rec.collecting.stamps.discuss
Date: 2003-09-22 12:08:08 PST

...

BTW, I suppose that even if the Swiss post isn't anymore what it was earlier, if you send me a cover to the address:

Victor Manta
(the famous stamp collector)
Switzerland

I will probably get it (and I'll be not only still alive, in order to confirm its arrival, but I'll publish it on a Web site too).

Victor Manta