SNA HUMOR AWARD 2003
GOES TO THE FSAT (TAAF) POSTAL ADMINISTRATION
The first SNA Humor Award was won by the French Southern and Antarctic Territories sheet shown below.
The reason of this choice becomes clear when one attentively reads the text presented on the sheet. A certain similarity with some of the SNA sheets is obvious. The non-French speaking persons will find a translation below.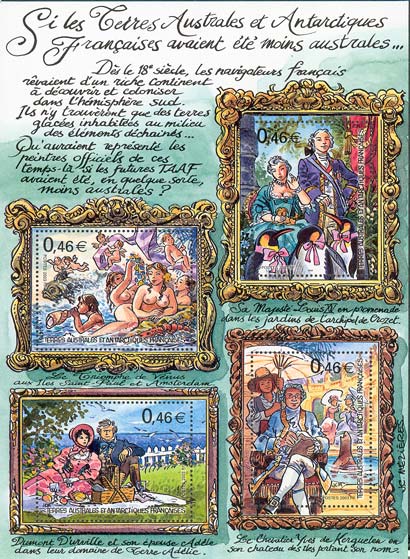 If the French Southern and Antarctic Territories were less Southern...
Starting by the 18th century the French navigators dreamt of a rich Continent that they could discover and colonize in the Southern Hemisphere. But they have found there only icing land in the middle of a harsh environment...
What had shown the official painters of those times if the future FSAT were, somehow, less Southern?
(From left to right, and top down, the text under the paintings). The Triumph of Venus in the Islands Saint-Paul et Amsterdam. His majesty Louis XV in the garden of the Archipelago Crozet. Dumont D'urville and his wife Adéle at their domain of Terre Adélie. The Knight Yves de Kerguelen in his castle on the islands that bear his name.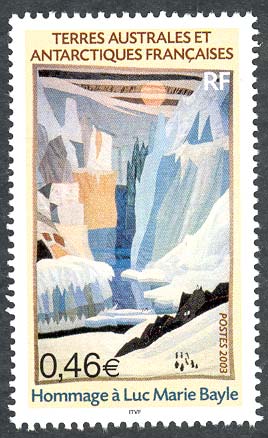 The above stamp, dedicated to Luc Marie Bayle, shows how the FSAT actually look like. The stamp appeared also in 2003. More on this artist can be found under: http://perso.club-internet.fr/jacbayle/livres/Gauguin/LMBayle.html