The SNA Postal Administration (SNAPO), encouraged by the SNA Philatelic Society (SNAPS), decided to bring its help to the American Philatelic Society. For this reason it will issue on 1st of March 2002 a souvenir sheet, the print run being limited to only 100,000 pieces. The surtax of €$ 10 will be entirely donated to the APS, an will permit to it to cover the reconstruction costs of the building located in The Bellefonte, Pennsylvania. The new building will assure the prosperity of stamp collecting for the present and future generations of stamp collectors.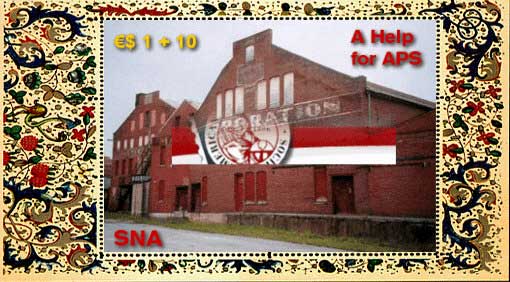 The sheet shows the image of a former match factory, that perfectly matches the dreams of many passionate philatelists. The margins of the sheet display floral motives, announcing the coming spring.
On the 1st of March the sheet will be launched in The Bellefonte, Pennsylvania, where the President of the SNAPS will present the sheet to the public and to the philatelic press. The designer of the stamp will offer autographs on specially prepared FDCs (not shown).