Winter Olympic Games 2002
The International Olympic Committee has decided during its annual session held in Ciedad de Leon to move the Winter Olympic Games 2002 to the Spanish North Africa.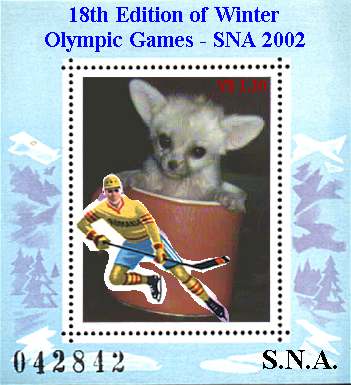 The SNA Postal Administration has reacted immediately by issuing a miniature sheet (see above). The sheet shows the mascot of the future Olympic Games, a baby domestic fennec named Fenny. The fennec is the national animal of the SNA.
The sheet was issued on 8th of June 2001 and was immediately available worldwide. The print run was limited to 150,000 pieces, all numbered. As usually, the first sheet went to the SNA Postal Museum and the last one to the UPU. Please contact the SNA Philatelic Dept. for conditions and availability.
Summer Olympic Games
SYDNEY 2001
The most prominent SNA sportsmen participated at the Sydney 2001 Olympic Games. Please see below the sheet issued by the Australian P.A. in the commemoration of Tracy Barber, the fastest of all in his discipline on the 5th continent.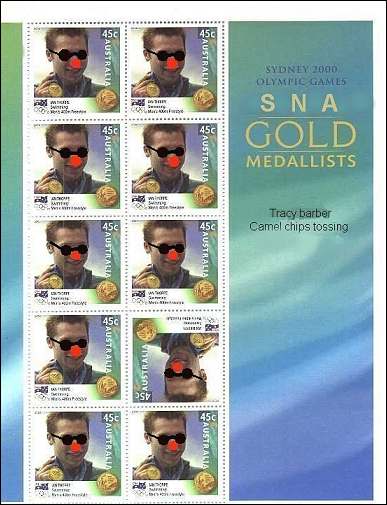 Please contact the Australian Philatelic Department for conditions and availability. Of course you have observed that one of stamps in the sheet is inverted, this being the reason why this piece is exposed in the SNA Postal Museum.
Credits: Thanks to Mr. Blair Stannard for Fenny's nice image.