NUDES FOR ALL
The art is not in presenting the things as they are,
but as they should be
The SNA Postal Administration has decided to issue each year several stamps related to some renown errors on stamps. In order to promote a correct imagine of the philately, and in its permanent struggle for perfection, the previous errors were corrected on these new apparitions.
On the stamp issued on March 27, 1969 by Romania, the name of the painter was improperly written as Hans von Achen, instead of Hans von Aachen.. Even more, the image was flipped horizontally, as opposed to the original painting. For this reasons SNA has re-issued the stamp, and offers it at the modest price of €$ 3.
Taking into consideration different sensibilities, the SNAPA has issued two version of the stamp, for two different markets. The stamp shown below is thought for stamp collectors who could feel offended by nudes who were painted about 400 years ago.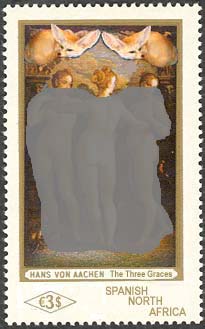 Because the angels weren't properly dressed, and the demand for fennecs on stamps is constantly growing, the later replaced the former on the masterwork.
Sensitive and bashful souls, PLEASE DON'T LOOK BELOW, where the painting is shown in its original form.
---
CLOSE YOUR EYES AS QUICKLY AS POSSIBLE
---
On the left we reproduce the original stamp, and on the right the stamp as it should be.
Bob I. wrote on RCSD: "I am somewhat mollified by Victor's willingness to hide the vulgar nudity on the stamp in question yet I remain shocked by the tantalizing glimpse of female flesh beneath the less-than-modest shroud covering the women. The fennecs are, however, a fine and classical addition to the design."