SNA MARKETING CAMPAIGN
2002 - 2003
SNA is starting a new campaign for the promotion of Spanish North Africa stamps and generally of philately. This became necessary after many postal administrations augmented their production, often using the revolutionary ideas implemented for the first time by the SNA Postal Organization.
Our new SNAPO mascot is named Burrito. From the very beginning Burrito has shown great interest in SNA stamps, by swallowing in less then three seconds two album pages of all SNA issues. Only than he calmly accepted to participate in a tiresome photographic session, by displaying the stamps that have survived, and which obviously he liked less.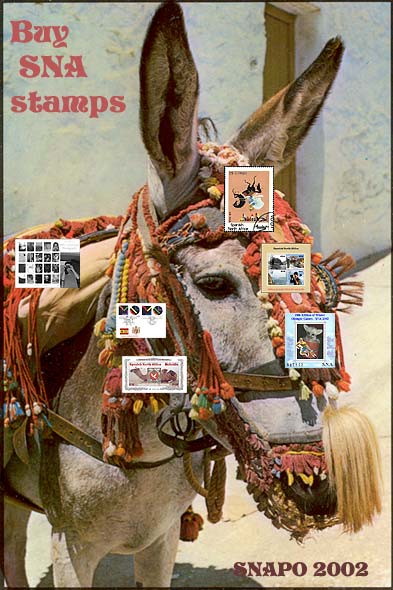 This postcard, printed in 1,000,000 pieces by the Courvoisier SNA printing office, was already distributed worldwide. The result surpasses so far all our expectations.