In French the phrase "l'Art du nu" - the art of the nude - is synonymous with an elegant saloon on a beautiful street in the stylish Eighth Arrondissement of Paris. It is the world famous Crazy Horse, which has been unsurpassed for nearly half a century as a radical innovation that exalts the female form as both artistic expression and entertainment. More than five million people have watched the Crazy Horse show in its beautifully appointed theatre on the Avenue George V, right next door to the House of Balenciaga and across the street from Yves Saint Laurent. Crazy Horse was founded in 1951 by Alain Bernardin, and even if it has evolved a lot through the time, the attraction that the beautiful Horses exert on their guests stays the same again and again.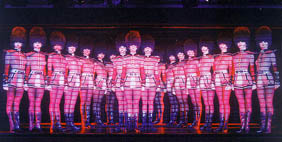 The SNA Postal Administration has foreseen to repair the omission of the French PA by issuing a sheet dedicated to the 50th anniversary of Crazy Horse cabaret. As the day of issue it has chosen the 1st of April 2002, a date with a special significance in Europe. The sheet is dedicated to the former Window Clerk #1, an American stamp collector and one of most prominent animators of the SNA movement. A recent decision of the SNA Postal Committee has forbidden the issuing of living persons on stamps, that why #1's face cannot be seen.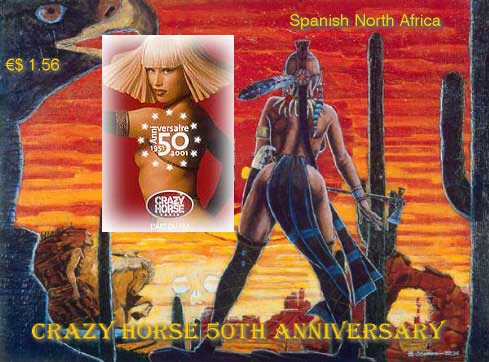 The image actually melts a heroic figure from the distant past with an attractive one of the near present, in an unique combination plenty of style and romanticism. The sheet can be acquired starting by the 1st of April 2002 at any serious philatelic shop.
For further information on Crazy Horse (opening hours, prices, etc.) click here. Disclaimer: SNA is in any way related to the Crazy Horse business.