SLOW PLANE FROM CANADA
Two days ago (6th February) we received an air mail item that had been posted in Canada on December 15th 2002. It had a Canada Post Office Label showing that it had been weighed and checked for rate at the PO in Canada.

There was a UK postmark dated 5th February over the Customs label.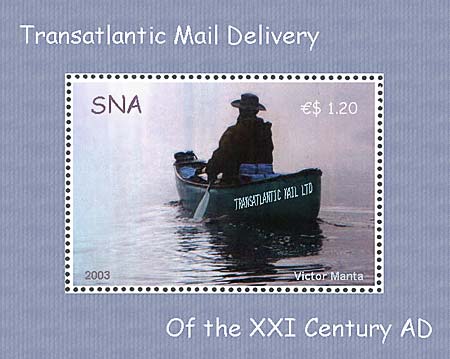 The plane must have flown at 3000 miles/(53*24)hr = 2.36 mph

I could have canoed across faster...

Tony Clayton
From RCSD, 8th February 2003.
Please click on the sheet for a bigger image.
The minisheet was issued on the 9th of February 2003 by the SNAPO. The print run was of only 20 million sheets. The sheet is distributed through the SNA Global Philately LTD, Ciudad de Leon. Contact please the Window Clerk #1 for more information about the wholesale conditions and the delivery.
Note. The above posting is copyrighted by Mr. Tony Clayton, UK.