SNA TENNIS ISSUE
Starting by the 2nd of February 2004 the best Swiss tennis player of all times, Roger Federer, became officially the #1 of the world tennis. He still is the #1, as of the end of 2007. A day before becoming the #1 he won his second Grand Slam tournament, the Australian Open, after having triumphed in Wimbledon in 2003. Counting two number one players, a man and a woman, the Swiss tennis entered, thanks to its champions, the exclusive club of only six countries that have attained this level of performance so far.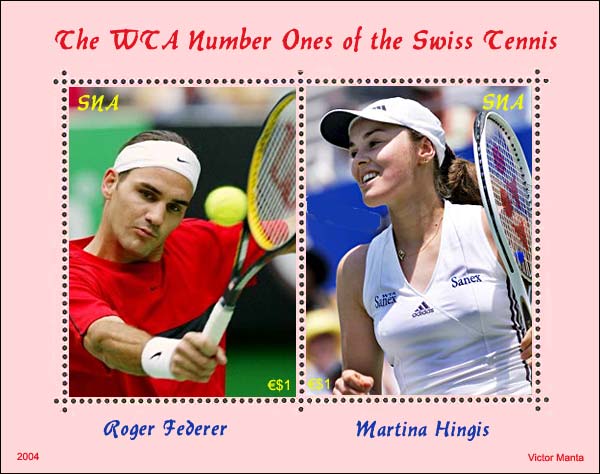 Because the Swiss PA hasn't yet celebrated this event (stand 2004), the SNAPO has decided to issue a souvenir sheet that commemorates the both champions, Roger Federer and the great Martina Hingis, who recently retired from the sportive life (and who came back later, retiring in 2007).
The sheet was designed by the Stamp Concept company, located in Ciudad de Leon. They were printed, as usually, by the security printer Courvoisier SNA. The print run is of 30,000 pieces only.