THE SOWER - LA SEMEUSE
Centenary of a Renown French Stamp
In the year 1903 the French Postal has issued one of the nicest definitives of its long history, The Sower - la semeuse (Scott 138-154). The name of the engraver of this philatelic gem is Louis Oscar Roty (1846-1911). He also engraved the silver coin of the 20th century, showing the same design, and which appear also on the new French euro coin.
It is the Paris Model Charlotte Ragot, then 30 years old, who served as model to Roty for the design of the coin and of the stamps. The picture of Charlotte dates from 1895 (or possible 1896 or 1897, after other sources).
The 20th of February 2003 the Royal Philatelic Society of London has celebrated the centenary of The Sower stamp. Apparently (after Mr. Rida Roty, a designers relative), there were no celebrations in France related to the mentioned legendary work.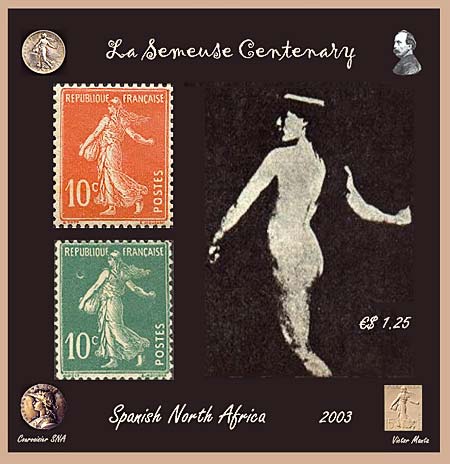 The SNAPO has decided to make justice to the great engraver and to his work, by issuing on the 6th of June 2003 a miniature sheet, dedicated to the centenary of The Sower stamps. The sheet shows two Sower stamps, and also images of the coin, of a medal and of the Roty himself. The woman in the sowing position is, of course, the model Charlotte Ragot.
Printed by the Courvoisier SNA Security Printer, at Ciudad de Leon, SNA. Print run: 125,000 numbered pieces (all sold in the first week).
Four month later the French PA has issued a booklet of 10 stamps with permanent validity, five of them being dedicated to the centenary of "La semeuse". We show below the both faces of the booklet and a separate stamp.
Up to you to chose which issue you prefer.
Links and Credits to:
Roty on the Internet

Rodney of the RCSD, for the link to Charlotte Ragot's image.

Pierre Courtiade for the French Sower stamp
Eventually click on the SNA sheet for a better view.