THE FENNY CUP AWARD 2003
For Harming the Philately on the Web
The SNAPO has decided to reward the persons or organizations that in a way or another disappointed the philatelic community, by offering them the newly created Fenny Cup Award.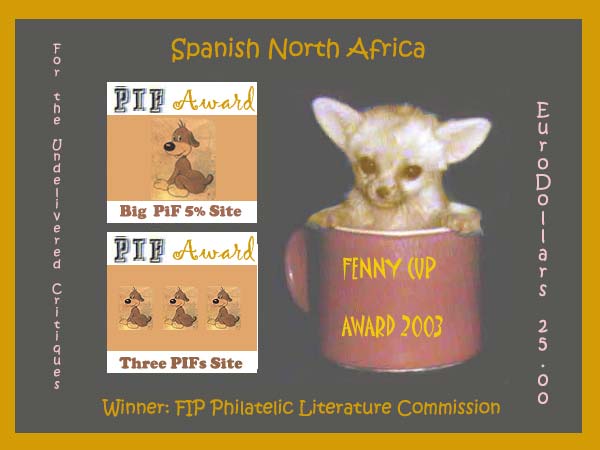 This year's award goes to the FIP Philatelic Commission, that hasn't delivered its promised Critiques to the participants in the FIP Websites Competition 2002. This subject was largely debated in June 2003 on the news:rec.collecting.stamps newsgroup.
PIF the Dog is a renown and very nice character of French cartoons.
We think that it is a RCSD poet who gave at best voice to the feelings of the participants, in a memorable verse:
Do you FIP or FUP
when your website's up?
Can you stay to play
or just pay their way?
Seems t'me, the game's a hoot
No reviews to share the loot!
Webmasters come and drop a dime,
well, just this "one more time"!
The author was obviously inspired by another posting, in which its author said that in its country the popular saying is: "FIP or FUP?" meaning "FIP or FRAUD?"' FIP means in slang "beard".
The commemorating miniature sheet was printed by the Courvoisier SNA Security Printer, at Ciudad de Leon, SNA. The print run was of of 10,000 pieces. The high price of Euro$ 25 is equivalent to that asked by the FIP from the participants in the mentioned competition.
Links:
A summary of RCSD postings

The position of the FIP Philatelic Literature Commission

About the FIP Literature Commission