SNA Stamp Championship
SNA is SNA is SNA is only SNA
The Singapore Post (SingPost) will commemorate the 150th anniversary of the first use of stamps in Singapore by organizing a World Stamp Championship (see on the bottom of the page how they started). Following its example, the SNAPO will organize in the same year, but earlier, a SNA Stamp Competition. The winners of this competition will have the right to participate in the Singaporean one.
By using the same format as that designed for the SingPost, but adapted to the specificity of the SNA philately, SNAPO has issued on the 1st of May 2003 a miniature sheet that commemorates this important event. It is for the first time that a branded sheet is issued by SNAPO, and showing its main sponsor, the renown Crazy Horse ballet.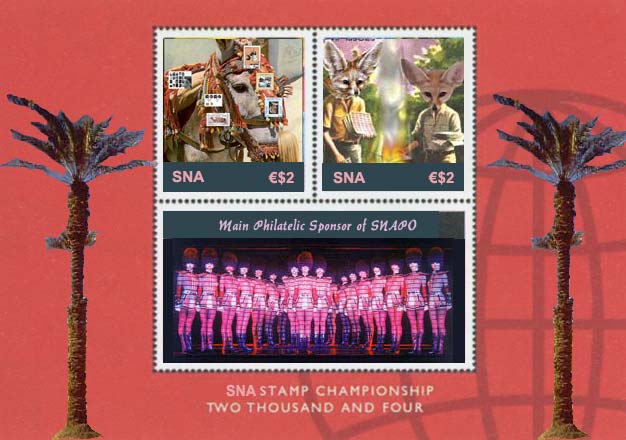 Quo Vadis Philately?
Please take a look at the first 4 (of 15) branded sheets that SingPost will issue for the World Championship 2004. Only 39,500 complete sets of 15 souvenir sheets will be produced. They will be available only through mail order, at S$61.60 per set (about US$ 35).
The partners of the SingPost are American Express, Coca-Cola, McDonald's, Reader's Digest, Swatch, CNN, Creative Technology, Microsoft, Siemens, Singapore Airlines, AIA, GlaxoSmithKline, HSBC, Shell and Sony.

Source: FLASH, Nr. 83 - 2003, issued by the Fédération Internationale de Philatélie (!). The article was published under the title: "Together, We Stamp A First!", on two pages, and the sheets are shown on the front cover. Please note the new philatelic term introduced by the announcement in Flash: branded stamp souvenir sheet.