FIRST ENGRAVINGS ON SNA STAMPS
Homage to Czeslaw Slania
Czeslaw Slania (pronounced Chess-wav Swan-ya) was born near Katowice, Poland in 1921. He entered the Krakow School of Fine Arts at the age of 24. Employed for six years by the Printing Office of the Polish Government, Slania engraved his first stamp in 1951. Escaped to Sweden in 1956, he engraved the same year his first stamp for the Swedish Postal Administration. An year later Slania has been appointed by the Swedish Postal Service as a full time engraver. Since then, he has been appointed as the Royal Court Engraver in Sweden, but also in Denmark and Monaco, and won numerous awards for the quality and the beauty of his engravings. Czeslaw Slania is considered the world's most famous stamps engraver ever.
Although already holding the world's record for the greatest number of fine engravings, Slania had a personal goal of 1,000 engraved stamps. This incredible result was attained on March 17, 2000, when a Souvenir Sheet, reproducing a work of the baroque painter David Kloecker Ehrenstrahl (1628-1698), was issued by the Swedish P.A. The sheet entered in the Guinness Book of Records, as the biggest engraved stamp ever. (Source: http://www.values.ch/Countries/Sweden/Slania/slania.htm).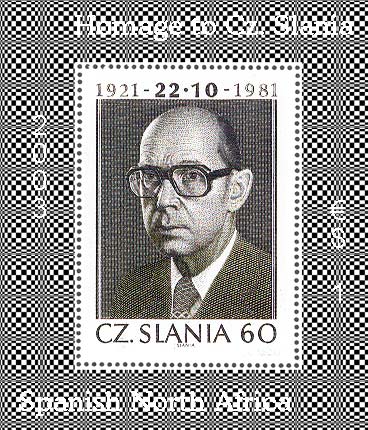 Slania engraved many stamps that weren't issued by postal administrations. The SNA Postal Office decided to bring to the stamp collectors worldwide these nice, to be never issued stamps.
On 14th February 2003 SNAPO has issued two sets and a commemorative sheet. The first set shows four boxing world champions, from four different countries. The second set displays four images of one of most popular movie actresses. The image on the SNA sheet was engraved by Slania in commemoration of his 60th birth anniversary. An attentive eye will notice that the SNA overprint on the Clay stamp is inversed (only one piece known, already donated to the SNA Postal Museum). The print run of sets is of 1,000,000 stamps each, that of the sheet: is of 100,000 pieces, all numbered on the backside.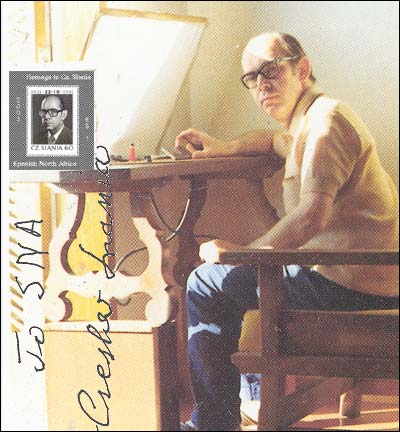 Mr. Slania is a long time friend of the SNA and of its philately. The photograph shown above is permanently exhibited at the SNA Postal Museum in Ciudad de Leon. Please note that he has signed it as Snania, a kind present for his numerous SNA fans.
Link: Please click here for visiting the first Cz. Slania page on the Web. The page contains further links to Slania websites.
Credits: The images presented on the above stamps and on the photograph were taken from the book: "Lennard Bernadotte presents Czeslaw Slania's life's work", Publisher: Mainauverwaltung Graf Lennard Bernadotte GmbH, 7750 Insel Mainau.