I F N I

HISTORY AND STAMPS

(continuation)
IFNI, a former Spanish possession (580 sq mi/1,502 sq km, 15,000 inhabitants), is located in the SW of Morocco, on the Atlantic Ocean.
The Spanish population grows in time, and in the 1950s about 60% of the population of Ifni became Spanish.
Border clashes between Spanish and Moroccan troops occurred in 1957.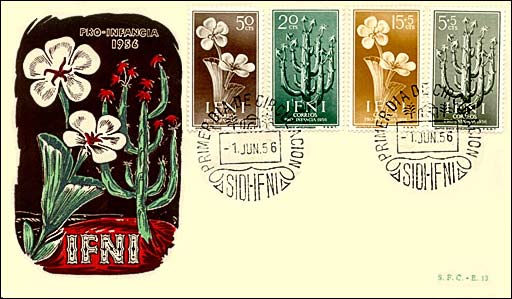 During the year 1966 take place negotiations between Spain and Morocco over the status of Sidi Ifni.
In 1969 Sidi Ifni, as much the town as its surrounding area becomes part of Morocco state.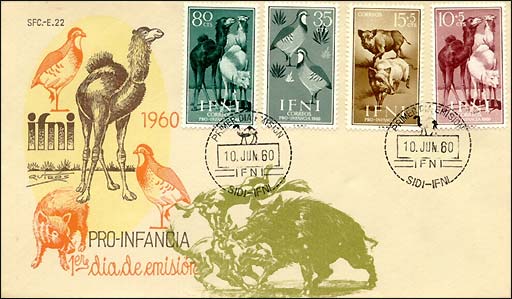 Ifni has issued stamps between 1941 and 1968, and has used later Moroccan stamps.
Some of this stamps are forever imprinted in the memories of generations of stamp collectors, even of those who haven't collected them.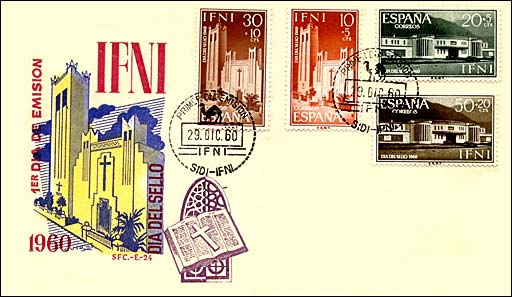 The author of these pages belongs to the former group, and it is the nostalgia of the youth that has pushed him to publish these pages.
For more information about above stamps and FDC's please point to them with the mouse index.
Credits: many thanks to Tracy Barber (USA) for FDC's scans.